If you have any comments or questions please fill out the form below. We will do our best to respond in the shortest possible time.

Thank you for your time. We encourage you to contact us.
Diaphragme airless sprayer PS240F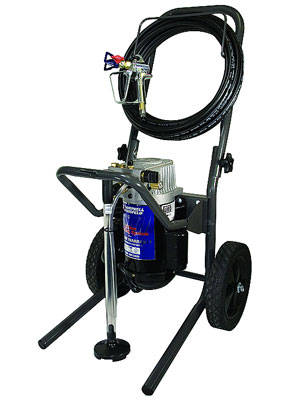 Diaphragme airless sprayer PS240F
Campbell Hausfeld PS240F is a diaphragme airless sprayer produced in the USA. Recommended for any painting job that requires paints such as: polyvinyl, chloro-rubber, oil based, acrylics, latex as well as stains and varnishes. PS240F is ready to work – equipped with suction set. This tool is easy to operate, maintain and transport. Use it with wide range of accessories and make your painting job very easy.
Technical specifications:
Engine power: 0,64 kW
Volume flow: 1,9 l/min.
Max. tip size: 0,017"- 0,43 mm.
Max. spraying pressure: 200 bar
Voltage: 230 V
Weight: 27 kg
Max. hose lenght: 30 m
Standard equipment:
sprayer with suction set,
15m hose,
spray gun with 515 tip and tip guard.
Spinex - Stępniak Spółka Jawna
Copyright © 1993 - 2023
By using our websites you agree that we can place both essential and non-essential cookies on your device. You can block any cookies from any website through your browser settings. If you share the use of a computer, accepting or rejecting the use of cookies will affect all users of that computer.